In Tanzania, the government subsidizes Primary School education. Unfortunately, the funding for the Primary Schools is not sufficient to ensure a quality education or support the infrastructure necessary for most Primary Schools. As we know, early childhood is the most critical time in establishing good self-esteem, critical thinking, decision-making, and developing the desire to further ones education. The less the Primary School is supported, there becomes an increased risk for a student to not thrive.
Kisangaji Primary School has a student body of about 750 students and 10 teachers. Grades are Pre-Unit through Standard 7. They have 6 finished classrooms, 2 unfinished (no roof) rooms, and 2 small teachers offices.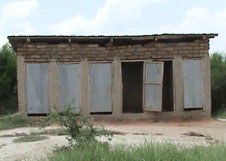 There are only 12 toilets (aka "long drops") and the District standard is 30. The student to textbook ratio is currently 1:8; a good ratio in Tanzania is 1:3. 6-9 different subjects are taught per Standard.
With 8 students sharing one textbook, some students lack focus and attention and therefore are not learning as they should. The students are eager and motivated to learn. However, the school lacks the following essentials:
textbooks
all school supplies
teaching materials
electricity
classrooms
access to water and health care
sporting equipment
toilets/long drops
technology
a library
lunch
classroom maintenance
uniforms
desks
The teachers lack housing and are in need of homes that are adjacent to the school property. The headmaster, for example, lives about 10 km's away and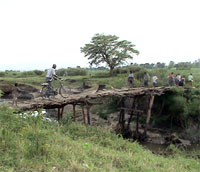 must spend his energy and time getting to/from school each day. Teacher housing will increase teacher retention and decrease fatigue. Students, especially those who live on the outskirts of the village, must walk a very long way to school each day. These students are unlikely to go home for lunch break and typically bring no water or food for the day. There is no access to drinking water near the school grounds.
The village also has a ravine that floods at times; the wooden bridge over the ravine (pictured here) gets washed out about once a year and takes months to rebuild. During the rebuilding phase, students are unable to get to school.