THE KISANGAJI PROJECT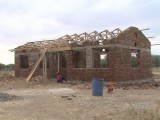 The Kisangaji Project is a 501(c)(3) public charity that helps support the village of Kisangaji, Tanzania by providing support to both the Primary School and the village of 4000 inhabitants. Founded in 2008 by Lisette Wright, the Project focuses on supporting the village's primary school and infrastructure needs. All proceeds raised go directly into supporting the village or into fundraising efforts. The Board of Directors is an all- volunteer Board whose reward is in helping those in this remote village thrive.
Our Mission Statement
To aid in the development of the village Kisangaji, Tanzania by supporting the Kisangaji Primary School and to enhance the well-being of the villagers by providing assistance with basic health care and other needs. Every human being deserves a chance to thrive.
---
What Have We Done Since 2008?
With our advocacy with the local government, your donations, tireless fundraising by volunteer Patti W, and with significant private funding out of the Founder's pocket, these changes have improved village life in the last 13 years:
1. Village Infrastructure: 4 water wells, 1 solar-powered water well in construction, construction of two houses (one for a doctor and one for a teacher's family), classrooms, cement bridge over the River seperating the village, and ongoing water-well maintenance. Electricity came to the village in late 2017.
2. Primary School: Textbooks, sporting equipment, desks, blackboards, classroom supplies, copier/printer, laptops, school uniforms and notebooks.
3. Medical Clinic: From 2008-2015, the medical clinic in the village was virtually abandoned and little used. After construction of the doctors house with project money in 2016, the government sent Stephan--the village doctor who has been there since 2017. In 2019, he and his wife had their first child and they have made a nice home for themselves next to the village dispensary (medical clinic). His education is the equivalent to the USA's physician's assistant. Supplies purchased by the Project for the dispensary including basics such as antibiotics, tylenol, IV stands, blood pressure machines, syringes, and other items.
Access to clean water, a medical clinic, and electricity: YES, alot has changed and been accomplished since 2008!
---
Want to volunteer, participate, or travel to Kisangaji?
Contact Lisette Wright for information:
help@kisangajiproject.org.
If you would like to contribute, your donation is tax
deductible, 97-98% of the donation goes directly
to Kisangaji. Just click below:
---
| | | |
| --- | --- | --- |
| | LATEST NEWS | |



2020 Updates

What's Been Happening in 2019-2020

After an attempt to become a NGO in-country with hopes of facilitating even more development to Kisangaji, the effort was terminated due to political reasons. However, the Project continues to support the village and their needs in other ways:

Crafting Projects to Raise Money: Volunteer Patti W. brings back 70 yards of African fabric and turns it into: tote bags (Taaluma Totes--always a best seller!), zipper pouches, and other crafty items to raise money for the Primary School. About half of the funds are given as grants to identified needy children in the village to buy school uniforms and school supplies. Several laptops and the copier were also funded through the Crafting projects!

The next big infrastructure project: Solar-powered water pump with water lines and tanks to keep a continual supply of water at the school and dispensary.

Flooding: December 2019 trip was wet, muddy, and roads were nearly impassable at times.Lisette bought a spade (for $2.50) because getting stuck in mud in a van is akin to getting stuck in snow in Minnesota! Months later, well into the Spring of 2020, it is still raining excessively.Streets are flooded in Dar and businesses have been struggling. This has now created problems of food shortages in the village and difficulty getting in/out of the village.

COVID-19: As of August 2020, the country of TZ is slowly reopening, sending children back to schools and opening businesses. Commercial airlines have begun their routes again into the country. One of Lisette's friends and contacts, the District Executive Director of the Babati District unfortunately died from COVID in mid-June after returning from Dar. Because of the ever-changing nature of COVID and the governmental guidelines all over the world, the 2020 trip has been cancelled. For the first time in 12 years, due to the pandemic, "Liz" will not travel home to her village. It is very sad yet we know that we will return soon! Work on the solar pump continues however, and a large contribution for school uniforms and supplies was given to the village in August 2020 by volunteer Patti W.(who has relentlessly raised money for the school!). Over 32 needy students of the Kisangaji Primary Shule will now have what they need to attend daily classes. $300 was also given to the school (by Patti) for general supplies.

September 2020: The project gave the Medical Dispensary $1300 and the primary school an additional $200 for copier maintenance and supplies. This would have typically been given in-person....we are anxiously awaiting word on progress regarding the solar pump. Finally, Lisette gave Teresia $25. This would have typically been given over ugali, in her hut, with Bebe watching over us smiling.

Medical Needs: Just like the school, or worse, there is a chronic lack of basic medical supplies such as Tylenol, anti-fungals, antibiotics, etc. Giving childbirth is made more difficult due to the lack of on-site water access. This is why the solar-powered water pump project is so important. Malaria, HIV, Typhoid, Worms, GI disease, urinary tract infections: these are the top medical problems the villagers face. Upon arrival in December 2019, the medical clinic had NO supplies, not even simple antibiotics to treat infections. The District government pays Stephan's salary and gives him a stipend for supplies--but it is never enough.




Success: Challenges and Resiliance in Kisangaji

To read about the actual process of building a teacher's boma in 2011, including news about the village, the hardships and determination of everyone to see this project completed, go to the blog that was kept during the stay in Kisangaji.




Village Documentary from 2011

Below is our 14-minute film about Kisangaji, the teacher's house construction, and the urgent need for access to clean water. Please watch this video and consider making a tax-deductable donation to help bring clean water and support to the village.